Fried rice is one of the most popular and easy to cook rice recipe in Nigeria. It is a must serve meals at Owanbe or any functions and a major meal in most homes.
Some people love a combination of Nigerian fried rice and Jollof rice at parties. Call me a 'foodie' but I love a combination of Nigerian fried and jollof rice, with moi-moi and chicken or beef.
There are several methods of cooking fried rice. Some prefer to parboil the rice, add the stock, veggies and other seasoning, but I LIVE for the frying method not only is it easy but it gives a perfect fried taste. I am going to be sharing with you the easiest and quickest way to make Nigerian Fried Rice.
I am not exaggerating! This method is MINALICIOUSLY tested and trusted. Easiest and quickest way to cook Nigerian fried rice? Search no further! Kindly check below for the ingredient and steps:
Ingredients For Nigerian Fried Rice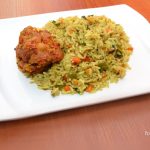 Print This
Ingredients
2 cups of long grain rice
3 cups of chicken stock
2 seasoning cubes
2 table spoons of rosemary or dried thyme
1½ table spoons of white pepper
¼ of table spoon of turmeric or 1 tablespoon of curry powder
2 garlic cloves.
¼ cup of finely diced red bell or red scotch bonnet pepper
¼ cup of finely diced green bell pepper
1 medium onion bulb (finely diced)
½ cup of finely diced spring onions
½ cup of finely chopped carrots
½ cup of sweet corn
¼ cup of green peas
½ cup of vegetable oil
2 table spoons of salted cooking butter
½ cup of fried liver (optional)
Salt to taste
Instructions
Using the above listed measurements;
Thoroughly wash rice with salt till the water is clean, set aside in a sieve to remove excess water. (The essence of washing rice with salt is to remove excess starch).

In a medium pan, heat up vegetable oil on medium heat.

Stir in the long grain rice and fry for two (2) to five (5) minutes.

Add turmeric powder, rosemary, white pepper, crushed seasoning cubes, salt to taste. Combine thoroughly with the rice and continue frying till it tastes dry and crispy.

Add three (3) cups of chicken stock or water and cook till it is 85% done.
While that is ongoing,
In a medium size pan, melt salted cooking butter on medium heat, add finely diced carrots and sauté for one (1) minute.

Add minced garlic, diced onions, diced red and green bell pepper and sauté till it is translucent.

Add the vegetables and the liver to the cooked rice.

Add the sweet corn, stir thoroughly to incorporate all the ingredients.

Leave to simmer for five (5) minutes.

Add the spring onions, give it a thorough stir.

Stir in the green peas and turn off heat immediately.
Notes
Cooking butter adds a unique taste to grains and it prevents it from being sticky. I used turmeric powder instead of the conventional curry because of the health benefits of turmeric powder. If you are using turmeric powder as advised, you have to be extremely careful and it is important to control the amount, if you don't want your rice looking yellow or funny. Using turmeric powder is gonna be a biggie? To be on the safer side, you can use curry so as not to mess your rice. You can parboil the rice if you don't want to fry but frying the rice gives it a perfect fried taste.