Egusi ijebu is a local soup made with melon seed and it is common among the Ijebu/Yoruba clan. There is no Egusi Ijebu without some Ogiri Ijebu.
What makes Egusi Ijebu unique?
Ogiri Ijebu gives Egusi Ijebu a unique and mouth-watering taste. Ogiri Ijebu is a local seasoning of the Ijebu clan that is made from fermented egusi seeds. It has a unique aroma you can perceive from miles. Egusi Ijebu is best enjoyed with roasted fish or grilled stocks (this is how I like mine).
One great thing about this soup is that it is relatively easy to prepare and it isn't time consuming. The key feature of Egusi Ijebu is its smoothness which it is why the Egusi needs to be well grounded to avoid lumps in the soup.
Egusi Ijebu Recipe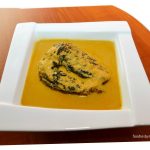 Print This
Ingredients
1½ Cups of Melon
4 red scotch bonnets
2 red bell peppers
1 medium onion bulb
1 cup of palm oil
¼ table spoon of turmeric powder (optional)
5 pieces of Roasted catfish
Ogiri (local Seasoning) to taste *optional
Salt to taste
Instructions
 Using the above listed measurement;
Wash the melon, red bell pepper, red scotch bonnets and onions thoroughly and grind smoothly.
Pour the grounded melon (Batter) in an empty pot. It should be a bit watery as it will eventually thicken while cooking. This will also prevent it from being lumpy.
Add palm oil, turmeric powder and ogiri to taste.
Allow it to cook for ten (10) minutes.
Stir intermittently to avoid lumps.
Add the roasted cat fish.
Add salt to taste and allow it cook through for another five (5) minutes.
Give it a final stir.
Turn off heat immediately.
Like Seriously, Just like that! Egusi Ijebu is ready!! That wasn't hard to cook, was it? Pair it with any form of swallow and you are good to go!
Notes
Bleaching the oil/ frying the melon or using a thick grounded melon will make it lumpy. The signature 'Egusi Ijebu' look is usually smooth and a bit watery. The beauty of Egusi Ijebu is for it to be smooth with no lumps. Before cooking the egusi, you can add water if it is too thickened; this will prevent it from having some lumps. If the catfish wasn't freshly smoked by you or if it is too hard, it is advisable that you soak it in water and add some salt for fifteen (15) minutes or less depending on the kind of fish you are using. You can use any kind of fish, assorted meats, poultry stocks, seafoods etc. just do you!!!!!!!!!!!!!!!!!!!