Banga and okro is a Nigerian dish made with Okro and Banga (Palm Fruit). It is a combination of two (2) local soups. Ogbono soup is of Igbo origin and Banga soup hails from the Urhobo ethnic group and it can be served with numerous Nigerian morsels including Eba (garri), fufu, pounded yam, starch, etc.
How to cook Banga and Okro Soup?
There are several methods by which both soups can be prepared independently. Kindly check the blog for the detailed recipe of these soups.
Combining Banga with Okro?
Banga and Okro is a very popular soup and the method of preparation varies from different tribes. People have upgraded from the traditional method of preparing both local soups, different twists are being added. Like combining both soups to make a tasty dish! Traditionally, stockfish is usually the star of both dishes but with the modern cooking style, different things are being incorporated. People tend to add different kinds of protein to this soup. So that when you dip your preferred choice of morsel in the soup, it brings out some orisirisi. I can't believe I am salivating already. Lol!
Pumpkin, Bitter or Basil leaves, Uziza, Utazi are the most common vegetables used.
Check ou the video for the video making of Banga Okro Soup
BANGA OKRO SOUP WITH UZIZA RECIPE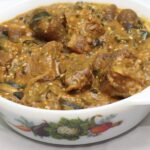 Print This
Ingredients

½ kg of Banga (Palm fruit)
¼ kg of grated Okro
1 cup of finely sliced okro
Handful of shredded uziza leaves
7 pieces of red scotch bonnet
1 medium-sized onion
Ikg of Beef
½ kg of cow skin
Stock fish
1 seasoning cube
Salt to taste
Instructions
Soak the stockfish in water to make it tender.
Bring Banga (palm fruits) to a boil till it becomes soft and tender.
When the palm fruits are tender, transfer into a mortar and pound softly. Ensure you don't break the nuts.
Pour some hot water over the pounded nuts, use a sieve to strain out the extract. Repeat this process until you get all the extract from the pounded nuts.
Pour the extract into a pot and boil until it thickens and the oil rises above the pot.
Thoroughly wash and seasoning the meats, bring to a boil till it's tender.
Roughly blend the above pepper measurement.
Add the roughly blended pepper to the Banga extract and bring to a boil for two (2) minutes.
Add the pre-soaked stockfish and cow skin (ponmo) bring to a boil for five (5) minutes.
Add salt to taste
Add Banga Spice
Add the pre-cooked beef and let it cook for two (2) minutes.
Add the grated okro, give it a quick stir and allow it to cook for about two/three (2-3) minutes.
Add the finely sliced Okro, just add some crunchiness to the soup, and allow it to cook for one (1) minute.
Add the finely shredded uziza leaves and give it a final stir, so that all the ingredients are well incorporated.
Allow it to cook for about two (2) minutes.
Do not forget to taste salt and seasoning.
Turn off the heat immediately.
Notes
Traditionally, it is believed that the slime consistency of Okro is reduced when you cover it while cooking. As in, the okro no go draw if you cover the lid. Lol! That was why I didn't cover the pot when I added the okro. It is a risk I don't want to take whether the assumption is true or superstitious. Stockfish is usually dry and hard, so it is advisable to soak it in water for hours before cooking. Uziza leaves tend to have a faintly bitter taste, you should add the leaves according to your taste bud. I used a handful because I don't want my soup to taste bitter. You can also substitute this with Pumpkin, Bitter or Scent leaves. When boiling meat, additional water is not required because meat brings out some juice as it is being cooked. Kindly watch the video below for a better understanding of what is being discussed here. Don't forget to subscribe to my Youtube Channel and drop a comment down below. I would love to read from you!!!!!!