Ayamase is a green pepper stew; it is a combination of different green peppers. It is a popular Nigerian stew that is best served with white rice.
AYAMASE or OFADA SAUCE (DESIGNER STEW) Recipe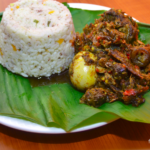 Print This
Ingredients
6 green bell pepper
8 Green scotch bonnet
3 medium size onion bulb
½ cup of lowcust bean (iru woro)
2 cups of red oil
½ tablespoon of turmeric powder (optional)
1 tablespoon of grounded crayfish
3 boiled eggs
1½ kg of assorted meat
1 cup of cow skin cut in bite size chunks
1 cup of shredded onions.
1 seasoning cube
Salt to taste
Instructions
Thoroughly wash the meats and cow skin, pour into a pan, add some chopped onions, ¼ table spoon of turmeric powder, seasoning and salt to taste, bring to a boil until a desired result is achieved. Drain out the stock and set aside in a clean bowl.


Thoroughly wash and cut the green bell pepper, green scotch bonnets and onions into smaller sizes.

Sauté for three (3) minutes. This is very optional; you can skip this part and proceed to the next step.

Pour the sauté pepper and onions into a blender; add two (2) garlic cloves and blend to a lumpy consistency (Ayamase taste better when the pepper is not smoothly blend, it is advisable to leave some shaff).

Drain out excess water from the blended pepper (Ayamase do not require excess water)
STEP 2
Pour two (2) cups of red oil into a preheated pan and bleach for 3 minutes or till it changes color.

Add the assorted meats and cow skin to the bleached oil and fry for four (4) minutes or until a desired result is achieved (if you are using an already fried meat or whichever, you can skip this step and proceed to the next)

Add the shredded onions and lowcust bean and allow it fry for two (2) minutes.

Add the blended pepper and 1 table spoon of grounded crayfish, give it a thorough stir and allow it simmer for three (5) minutes.

Add the boiled egg.

Add a seasoning cube and salt to taste, give it a quick stir.

Allow it simmer for some minutes, until; the oil settles at d surface.

Turn off heat immediately.
Ayamase is best enjoyed with white rice; it can also be sumptuous with pasta but certainly not with swallow.
Notes
Green bell peppers are usually sweet, because i love my meal a bit spicy, that was why i used the listed amount of green scotch bonnets. If your taste bud can't tolerate much hotness, it is advisable to reduce d amount of green scotch bonnet or remove the seed before blending. Adding many onions to stew, add to its sweetness and it also reduces the hotness.