How are you celebrating Easter Sunday? For me, I am celebrating it the KFC way! Yes, I am bringing KFC home and straight outta my kitchen. Lol!
Crispy spicy fried chicken are usually crunchy on the outside but moist and soft inside. Making this recipe is dependent on your taste bud. I like mine Spicy but you can reduce the amount of pepper if you don't like it hot.
Crispy spicy fried chicken can be enjoyed either hot or cold.
How to make crispy, tasty, spicy fried chicken?
Kindly follow the steps listed below to this!
Ingredients For The Recipe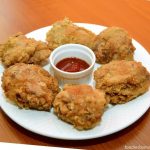 Print This
Ingredients
2 eggs
1 tablespoon of water
1½ cup of all-purpose flour
2 tablespoons of chilli pepper
2 tablespoons of white pepper
1 table spoon of black pepper
1 teaspoon of parsley or oregano
¼ tablespoon of garlic powder
½ tablespoon of thyme
8 pieces of chicken thighs
Vegetable oil for frying
Seasoning cubes
Salt to taste
Instructions
Thoroughly wash the chicken and set aside in a light plastic or ziploc bag, add red chilli pepper, seasoning, and salt to taste. Marinade for 5-12 hours!

Crack open and whisk eggs in a bowl.

Add one (1) tablespoon of water to the egg mixture and whisk thoroughly.

In another bowl, create seasoning for the chicken by adding the all-purpose flour, black pepper, white pepper, garlic powder, parsley or oregano (or both) thyme, salt and seasoning cubes. Combine all thoroughly!
STEP 2
In a deep pot/fry pan, heat some vegetable oil, while the oil is heating up on a medium heat.

After deepening the chicken into the egg mixture, coat the chicken in the flour mixture (make sure you coat each piece completely with the flour.

Shake off excess flour to prevent the chicken from being too boggy.

Deep fry the chicken in the vegetable oil.

Fry for about seven (7) minutes.

When it turns golden and crispy then it is ready.

Remove excess oil by draining the fried chicken on a paper towel.
Notes
Marinating is optional! The essence of marinating the chicken is to make it tender and tastier. You can skip the marinating part and proceed with the other steps.