The special thing about this soup is the lumpy texture of the 'Egusi' in the soup. 
Frying the 'Egusi' before grinding into powder or raw gives a unique aroma and taste, because some of us are a fan of quick and tasty soup, we tend to skip this step. Nevertheless, it is going to be tasty with or without frying depending on the method you are using.
There are several ways in which 'Egusi' can be prepared, depending on the region where the recipe originates from. I will briefly explain few methods to make tasty 'Egusi soup'.
Having transferred palm oil and roughly blended pepper, seasoning cubes, salt and other ingredients, allow it cook for some minutes, add the meats or whatever, allow it cook until a desired result is achieved, stir in the vegetables, allow it simmer for some minutes, while that is ongoing, mix the 'Egusi' powder with water or stock to form a thick mixture, gently scoop like meat ball in the vegetable, do not stir , allow it cook for some minutes before incorporating it into the vegetable. This step is a bit tricky; the 'Egusi' lumps give the impression that you are swallowing meats (Grandma's style)
Here is another method; this is just a reversed of the recipe I am sharing. Add a desired amount of oil in a pre-heated pan, allow it heat up for a minute on a low heat, it is not advisable to bleach the oil, add the thick 'Egusi' mixture (mix the egusi powder with blended onions and salt, it gives a taste that is unexplainable) after stirring in d 'Egusi' increase the heat to medium, fry till some lumps are formed (this could take minutes) add the roughly blended pepper and continue with the steps listed. It is advisable to control the amount of salt you add as the cooking goes on, since the mixture have some salt.
Kindly check the recipe below for another unique method!
EGUSI SOUP RECIPE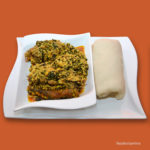 Print This
Ingredients
2 cups of dry grounded melon (egusi)
1 cup of palm oil
2 table spoons of crayfish
6 red scotch bonnet, 1 large onion bulb and 2 garlic cloves (roughly blended to form a puree)
1 table spoon of turmeric powder (optional)
1 cup of roundly sliced onions
6 pieces of pre-cooked chicken
6 pieces of pre-cooked goat meat
1 cup of shredded stock fish
1 cup of shredded dry fish
1 cup of roughly chopped pre-cooked cow skin (ponmo)
I full bunch of pumpkin leaves
1 cup of water leaves
¼ cup of bitter leaves
½ cup of scent leaves
1½ cups of goat meat/chicken stock or water.
1 flat seasoning cube
Salt to taste
Instructions
Steps/ Procedures
Using the above listed measurements;

Thoroughly wash the dry and stock fish.

Thoroughly wash and shred the spinach and set each aside in a clean bowl.

Shred the bitter leaves separately and wash to remove some bitterness not all.

Soak the stock fish some few hours before cooking, as it usually hard and dry. This will make it soft and tender.

In a clean bowl, mix the grounded melon with stock and combine thoroughly with a spoon. Excess water is not required as the mixture needs to be thickened. The thicker it is, the easier it is to form some lumps.

In a medium size pot, heat up palm oil on medium heat (do not bleach the oil)

Add roundly sliced onions, fry till it is translucent, stir in puree (roughly blended pepper) and fry till the oil settles up.

Add the melon mixture and fry for two (2) or more minutes.

Add crayfish, turmeric powder, seasoning cube and salt to taste.

Give it a thorough stir.

Add two (2) cups of water, do not stir and cover the pot for three (3) minutes.

At this point, the melon will have absorbed the water, to enable it form some pretty lumps. Moving forward, additional water is required.

Add the pre-soaked stock fish, shredded dry fish, pre-cooked chicken, goat meats, and cow skin.

Allow it cook thoroughly for five (5) minutes.

Add the shredded pumpkin leaves, scent leaves, bitter leaves and water leaves.

Taste for seasoning and allow it simmer for three (3) to five (5) minutes.

Turn off heat immediately.