Moi-Moi is a Nigerian steamed bean pudding. It is a protein rich food that is a staple in Nigeria. There are several methods in which moi-moi can be prepared. Some adaptation use leaves, foil, polythene, plastic etc. depending on the individual/tribe making it and how sumptuous you want it. Vegetable moi-moi is a twist to the conventional/traditional ways of preparing moi-moi
I guess most of you are already acquainted with Vegetable Moi-Moi which is a twist, a different consistency than the traditional varieties. I shared the tutorial for this recipe on my Youtube Channel and the feedback are amazing, I felt delighted and fulfilled, some people added different twist to theirs and it was awesome.
See the video if you missed it;
Vegebtable Moi-Moi (Bean Pudding) Recipe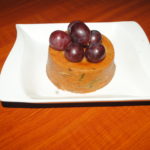 Print This
Ingredients
2 cups of Beans
3 red scotch bonnets
3 red bell pepper
1 large onion bulb
1 cup of shredded cabbage
1 cup of finely chopped spring onions
1 cup of green bell pepper cut in strips
1 smoked mackerel fish
6 eggs
2 Tbsp of grounded crayfish (optional)
½ Tbsp of Nutmeg
½ Tbsp of garlic powder
½ Tbsp of thyme
½ cup of vegetable oil
2 seasoning cubes
Salt to taste
Instructions
Peel, wash and grind two(2) cups of beans with 3 red scotch bonnets, 3 red bell pepper and 1 onion bulb.

Boil the egg, peel, slice and set aside in a clean bowl.

Use a wooden spatula to mix the grounded beans thoroughly.

Add some warm water into the mixture, if it is too thick.

Add ½ table spoon of garlic powder, ½ table spoon of nutmeg powder, 1 tablespoon of turmeric powder, ½ tablespoon of thyme, 2 tablespoon of grounded crayfish, add some vegetable oil and give it a thorough stir using a wooden spatula so that all the ingredients are well incorporated.

Using an appropriate measurement, add the mixture into whichever container you are using (plastic, polythene bag, foil paper, moi-moi leaves e.t.c).

Add a desire amount of sliced eggs, smoked mackerel fish, shredded cabbage, spring onions and green bell pepper in the container.

Repeat the process till the mixture is exhausted.

Gently arrange the plastics into an empty pot.

Add some water, make sure the water is not above the plastic, this will prevent additional water from entering into the mixture.

Allow to cook for some minutes, check the water level intermittently, add more water when necessary.

When a desired result is achieved, turn off heat immediately.
Moi- Moi can be served ordinarily, with some Garri Ijebu or any sumptuous meal of your choice.