Stewed Beef is one of the most served proteins at parties and a major form of protein in most homes in Nigeria and other African countries. This form of protein is often cook in different ways and it is a must have on restaurant menus in Nigeria. Festivity and Social functions are incomplete without this stew. Tell me, what is Christmas without Beef stew? Beef Stew can be served with variety of meals, it can be served with Rice, morsels, Yam, Potatoes, MoiMoi, Salad and the list goes on.
HOW TO NIGERIAN PARTY BEEF STEW?
Sequels to the discussion above; there are several ways to cook Beef Stew depending on the individual and the occasion.  Party beef is simple and it doesn't require too much ingredients and herbs. The signature of every Party Beef is the canned TOMATO PASTE; Yes! You read that correctly. Beef stew taste differently when you add canned tomato paste. It gives the stew a unique and flavorful taste. You all know party beef stew taste differently than the regular beef stew cooked in homes. Well, this is the secret!
INGREDIENTS FOR THIS RECIPE: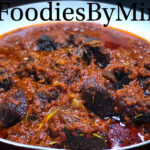 Print This
Ingredients
I kg of Fried Beef cut in sizes 50g of Tomato Paste ½ – 1 cup of oil (or as desired) 6 medium sizes of Tomatoes 6 medium Sizes of Red scotch bonnet 3 Large Red bell pepper 2 Medium size Onions 1 teaspoon of Curry Powder 1 teaspoon of Rosemary/Thyme 1 tablespoon of Ginger and Garlic powder 2 Crushed bouillon cubes Salt to taste
Instructions
Thoroughly wash the beef.
Add beef, Salt, Seasoning and chopped onions to an empty pot and bring to a boil for fifteen (15) minutes. . When boiling beef, additional water is not required because beef secretes some juice as it is being cooked. This is referred to as BEEF STOCK.
Drain the stock from beef and set the stock aside.
Pour groundnut oil into a heated pan and fry the beef on medium heat for 5- 10 minutes or till its brown.
Blend the tomatoes, scotch bonnets, red bell pepper and onions into a smooth puree.
Pour groundnut oil into a heated pan for a minute.
Add chopped onions, fry till it is translucent.
Add Tomato paste, fry for five (5) minutes.
Add the blended pepper mix, salt, bouillon powder, rosemary, curry, ginger and garlic powder, cook for ten (10) minutes.
Add the fried beef, give it a quick stir, so that .all the ingredients are well incorporated.
Allow it cook for about four (4) minutes.
The oil sets up, when the stew is ready.
Do not forget to taste for seasoning.
Turn off heat immediately.
Notes
If the blended pepper mix is watery, you do not need to add beef stock or additional water to it. If the puree is too thick, you can add beef stock or water where there is no beef stock or insufficient amount of beef stock. When beef stock is added, you should control the amount of salt and seasoning you add to the stew.